Fred Saberhagen
"The Adventure of the Metal Murderer" (1979)
Included in: Sherlock Holmes Through Time and Space (Isaac Asimov, Martin Harry Greenberg & Charles G. Waugh); Saberhagen: My Best (Fred Saberhagen)
Story Type: Science Fiction Pastiche narrated in third person
Canonical Characters: Dr. Watson; Sherlock Holmes; Mrs. Hudson
Other Characters: Supervisor of Defense; Berserker Android; ED Conglomerate Voices; Men Outside Theatre; Chess Machine Showman; Servant Girl
Locations: A Flagship near Earth; A London Theatre; Oxford Street; Baker Street; 221B, Baker Street; Camden House
Date: The Future & January 1, 1880 plus or minus ten years
Story: In the future, the Earth is at war with the Berserkers who are sending androids to attack it. All except one have been intercepted. It, however, has fallen into a black hole (harnessed to provide power on Earth), and been sent into Earth's past. An agent is sent back to destroy it, finally coming face to face with it in the rooms he has just begun to share in Baker Street. He is able to destroy it just before his roommate returns from an errand, but not before it is able to fire its mind-scrambling beam.

The Holmes-Dracula File (1978)
Story Type: Supernatural Pastiche (narrated by Watson & Dracula)
Canonical Characters: Sherlock Holmes; Dr. Watson; Inspector Lestrade; The Giant Rat of Sumatra; Baker Street Irregulars; Sir Jasper Meek; Tobias Gregson; Von Herder
Fictional Characters: Dracula; Dr. Jack Seward; Arthur Holmwood; Mina Harker; Jonathan Harker
Other Characters: Costermonger; Assailant; Jem Matthews; Doctor David Fitzroy; Wilhelmina Grafenstein; Number Two; Number Three; Barley; Sally Craddock; Sarah Tarlton; Dr. John Scott; Peter Moore; Superintendent Marlowe; Policemen; Idlers; Derelicts; Coat Man; Salvation Army Gatekeeper; Jones; Soup Man; Kitchen Wench; Rat Collectors; Cabman; Dog Fight Spectators; Barley's Assistant; Referee; Dog Handlers; Sir Jasper's Illustrious Companion; Plague Victims; Bart's Official; Matron; Dray Driver; Workmen; Campbell; Day; Morley; The Pincher
Date: June, 1897
Locations: The East India Docks; 221B, Baker Street; A boat on the Thames; Shadwell; Upper Swandam Lane; Commercial Road; Sidney Street Salvation Army Shelter; Tower Bridge; Bermondsey; Leathermarket Street; Mile End; a cab; Scotland Yard; Barley's pub; Soho; Sally's home; Bart's; another cab; Commercial Street Police Station; Whitechapel; a library; a hospital; Seward's asylum in Purfleet
Story: Dracula is held captive, and experimented on by a doctor and his companions. Escaping, he vows to track down and destroy his assailants. Meanwhile Holmes is visited by Sarah Tarlton, whose fiancé, Dr John Scott, believed missing in Sumatra, where he was investigating a giant rat and its links to a rare disease, has been seen in London. Holmes investigates the shipment of large cages and scientific equipment at a warehouse in the London Docks.
Leaving the warehouse, Holmes meets Lestrade who shows him the body of a murdered woman. The two cases seem to be connected. Holmes's and Dracula's investigations cross paths at a dog-fighting establishment, where Watson, mistaking him for Holmes, rescues Dracula from the police. Later, Sir Jasper Meek and an illustrious companion call on Holmes and reveal that the nation is being threatened with the release of plague bacilli on Queen Victoria's jubilee day.
Holmes lures Dracula to Baker Street, and the two must work together to bring the culprits to justice. Startling revelations are made about Holmes's own past.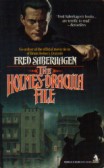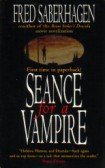 Séance for a Vampire (1994)
Story Type: Supernatural Pastiche (narrated by Watson & Dracula)
Canonical Characters: Dr. Watson; Sherlock Holmes; Inspector Merivale; Mrs. Hudson; Mycroft Holmes; Billy
Fictional Characters: Dracula
Historical Figures: Rasputin
Other Characters: Newgate Guard; Doll; Alexander Ilyich Kulakov; Prisoners; Deputy Marshal of the Admiralty; Marshal of the Admiralty; Coachmen; City officials; Thomas Turlis; Turlis's Assistant; Guards; Marshal's Men; Sheriff's officers; Onlookers; English Prisoner's Relatives; Ambrose Altamont; Mr. Ford; Angel Inn Servant; Angel Inn Residents; Ambrose Altamont; Martin Armstrong; Small Russian; Village Lads; Sarah Kirkaldy; Abraham Kirkaldy; Mr. Gregory; Madeline Altamont; Servants; Cooper; Rebecca Altamont; Louisa Altamont; Amberley Police; Dog Handler; Altamonts' Physician; Four-Wheeler Driver; Man in Four-Wheeler; Saracen's Head Landlady; Saracen's Head Clientele; Innkeeper; Kulakov's Servants; Plainclothesmen; Police Constable; Funeral Crowd; Clergyman; Policemen; Kulakov's Terrorists; Nevsky Prospekt Crowds; Russian Doctor; Kulakov's Russian Servants; Mansion Servant; Mansion Guests; Chambermaid; Countess; (Search Party; Sasha)
Date: June, 1765 / July, 1903
Locations: Newgate Prison; Wapping; Execution Dock; A Tavern; The Angel Inn; A Ship; St. Petersburg; 221B, Baker Street; Simpson's-in-the-Strand; Victoria Station; Amberley; Armstrong's Mercedes-Simplex; The River Shade; Altamont Family Cemetery; Norberton House; A Train; Baker Street; A Four-Wheeler; An Alley;A Train; The Saracen's Head; A Horse & Trap; A Carriage; Smithbury Hall; Greenhouse; A Steam-Yacht; Denmark; Copenhagen; Russia; St. Petersburg; Hotel de l'Europe; The Red Jingle Café; Kulakov's Town House; A Mansion
Story: 1765: The pirate, Kulakov, has been cheated of his treasure by his partner Ambrose Altamont, and is hanged at Execution Dock. Altamont's companion, the vampire Doll, has turned him, however, and he wreaks his vengeance on Ambrose, and inadvertently on Doll. He returns to St. Petersburg without finding the treasure.
1903: Holmes and Watson are visited by Ambrose Altamont whose daughter, Louisa, recently drowned. His wife has been convinced by the Kirkaldys, a pair of mediums, that they have made contact with Louisa, who has mentioned a treasure. Altamont wants Holmes to prove that the pair are mountebanks.
Visiting Norberton House to attend a séance, Holmes learns the details of the boating accident from Louisa's fiancé, Armstrong, and examines the river and the boat. The Kirkaldys meet a red-bearded stranger, Mr. Gregory, in the Altamont cemetery. Louisa appears at the séance, demanding that an old wrong be righted, and it becomes apparent that she is a vampire. In the aftermath of the séance, Abraham is seriously injured and Holmes snatched away by an invisible force. Merivale arrives to investigate, but refuses to believe that Holmes has been abducted.
Back at Baker Street, Watson receives a visit from Mycroft, and attempts to summon Dracula to aid in the search for Holmes. Rebecca Altamont provides him with more details of the boating incident. An attempt to abduct Watson by a group of Eastern Europeans is thwarted by the arrival of Dracula, with whom he returns to Amberley to find Holmes.
With Holmes found, investigations carry on in the village, and Louisa's tomb is opened. The body is missing and a raid on Kulakov's house finds her truly dead and Kulakov fled, and they later learn that Rebecca has been abducted. Dracula learns that Kulakov has returned to Russia and the pursuit continues to St. Petersburg, where, having tracked Kulakov to a stately mansion, Holmes and Watson find the girl, and Dracula finds himself under Rasputin's hypnotic influence, while Kulakov is still to be dealt with, and the treasure still to be found.